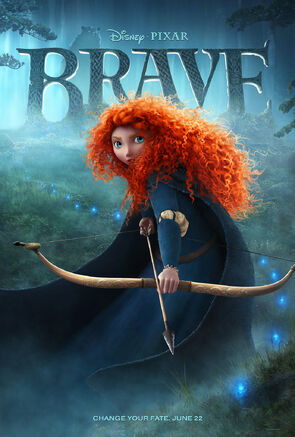 Disney has produced a wide variety of films that present different cultures and people; they also provide an interesting moral that applies to the story. This time, Disney/Pixar has taken its audience to the 10th century Scottish Highlands where we meet Merida, the bushy red haired princess who is determined to not abide by her royal customs. This act of retaliation stirs chaos in the kingdom, causing Merida to seek the aid of a clever old witch. Hoping her act of desperation will indeed alter the mindsets of the kingdom, and ultimately her fate, everything crumbles apart when a dreadful curse falls upon her family and will remain permanent unless Merida can mend the fractures between her family (hence the title of the movie,
Brave).
Brave
is one of Disney/Pixar's finest. It has a great story line that provides a right balance of humor, action, intrigue, intensity and tenderness all melted into one fantastic film. I've always been interested in Scottish culture, and I was excited to see how they would portray this very archaic and ancient heritage. I personally am a fan of the accents, FYI. The film was funnier than I expected it to be, and in a few incidents appeared to appeal to more adult-related humor to gain their interest without losing the younger audience. All in all, it was very funny.
The characters are all fantastic. The heroine, Merida, represents the basic rebellious teenager who wishes to go down her own path independently. However, she also is a clear depiction of how just one decision can alter your entire life, and future, forever. She is a uniquely crafted individual who many young people, especially girls, can connect with. Her boisterous father, King Fergus who is obsessively bent on destroying the beastly bear Mor'Du (who is also the antagonist) who claimed his right leg, is quite a comical and youthful figure who creates a few laughs throughout the movie. Queen Elinor is the typical stressed mother who is trying to harness her rule in the kingdom as well as heal the broken relationship between her and Merida. Unfortunately, the witch's curses effects her directly. However, you see the splintered relationship between Merida and Elinor reconcile and flourish as they each try to beat the clock before the curse becomes permanent. All the clansmen are war and honor obsessed, conceited, burly and just simply hilarious. And although they have no vocal dialogue, the three brothers will be a surprising treat for those who have not seen it yet.
This was a rather short review but I wanted to keep it brief and to the point because I'm sure you have much more exciting things to do than sit in front of a computer screen all day and read movie reviews. Or I would hope you do. Anyway,
Brave
is one of the best films Disney has made in a long time and is definitely worth going to see....or perhaps more than once. I'll probably be doing that in the next few days or so. Simply put, it's a great movie so stop reading this review and go see it for yourself!
A